The most amazing festival is already here! Do you want Tomatina Valencia Official Tickets?
La Tomatina Festival, in Buñol, near to Valencia, is one of the craziest experience in summer. La Tomatina will surprise you from start to finish. If you are planning to take part this year at you will check it for yourself.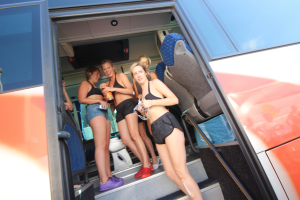 Tomatina Valencia – Buñol roundtrip
A frantic food fight with Tomato as the main protagonist. In fact, Tomatina festival is the biggest food throwing party in the world. Coming to Tomatina is very easy, just take our bus. It's easy, isn't it?
One of the most popular options is Tomatina from Valencia. Our bus departs from Valencia and takes you to Buñol. It is the most affordable option if you can't go by yourself to Buñol.
In addition, you have many extras at your disposal which will make you enjoy a complete experience on this special day: Battle Accessories, Sangría, Paella or even a Tomatina T-shirt that you to dye red, in a totally innovative way!
All you have to do is to go to the meeting point and let yourself go. Let's fun! Come to Tomatina and join thousands of people at the funniest party in the world.
Tomatina in images: